Get the look
CREATE AN OPEN AIR LIVING SPACE TO ENJOY ALL SUMMER
Make the most of warmer days by moving your living spaces outside! Bring the comforts of indoor living to your outdoor space to create open air rooms for relaxing, entertaining, dining, and more. Start by selecting the right space and framing it to create the feeling of a room, then choose the main elements such as seating and tables, and finally add the details that make the room.
Select your space.
Just as with indoor living spaces, think about what kind of room you want to create outdoors, and what you will use that room for. Is it a lounge area for sipping on a cool drink by the pool, a dining area for entertaining, or a cozy nook on your balcony for drinking coffee and reading the newspaper? If you can, choose a spot that is at its best at the right time of day. Think about where you'll get the best sun and light to enjoy in that room. For example, if you want to entertain friends in the evening, choose a spot that gets evening sun, so you can enjoy an aperitivo at golden hour.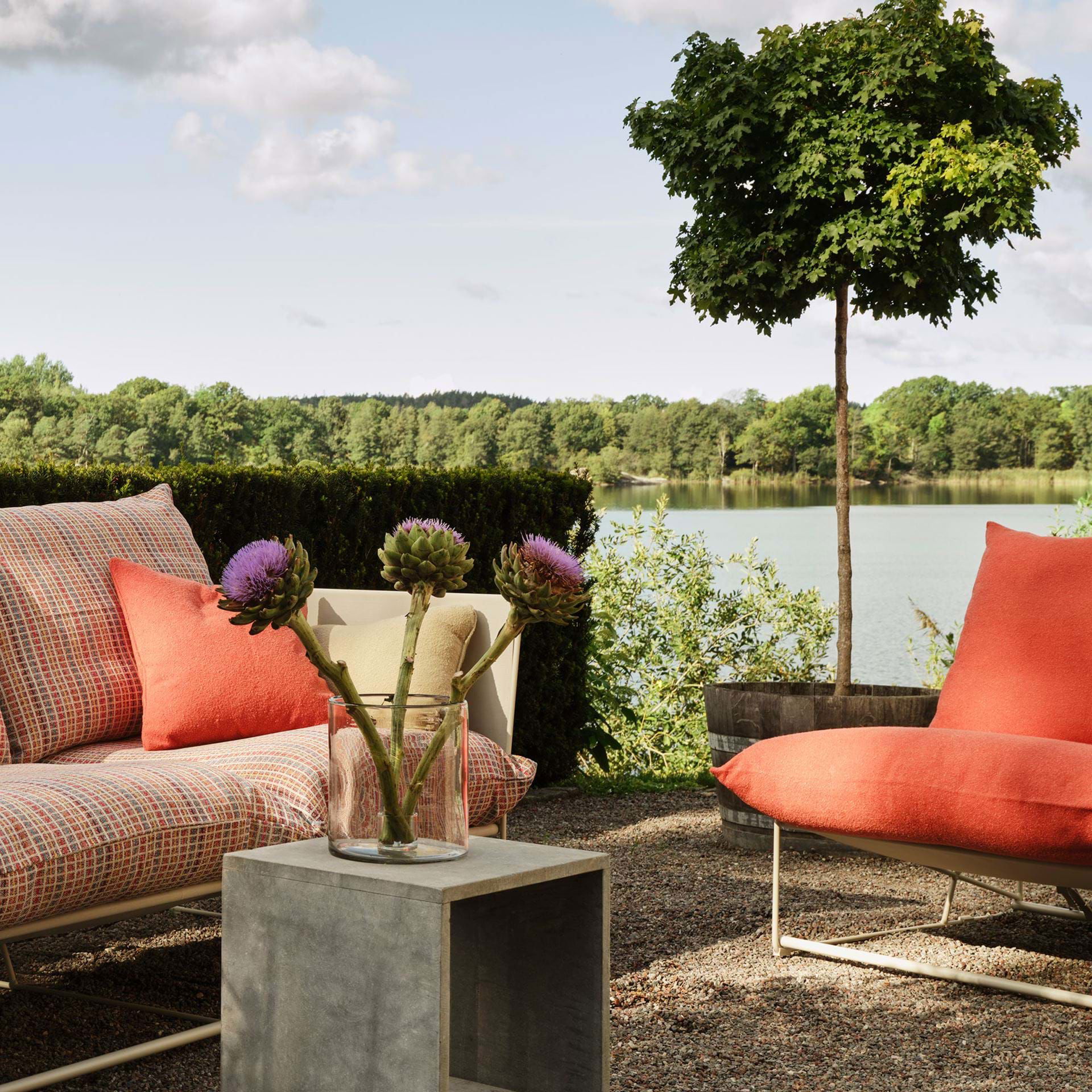 Create the walls of your room.
Your outdoor room won't have walls - that's part of the charm! But you can use outdoor elements to help create the feeling of a room. In a garden, planted or potted trees or hedges work well. Potted plants and flowers, and planters on wheels, are a great option and create flexibility on patios and terraces. And a small folding screen can help to frame a room on a balcony.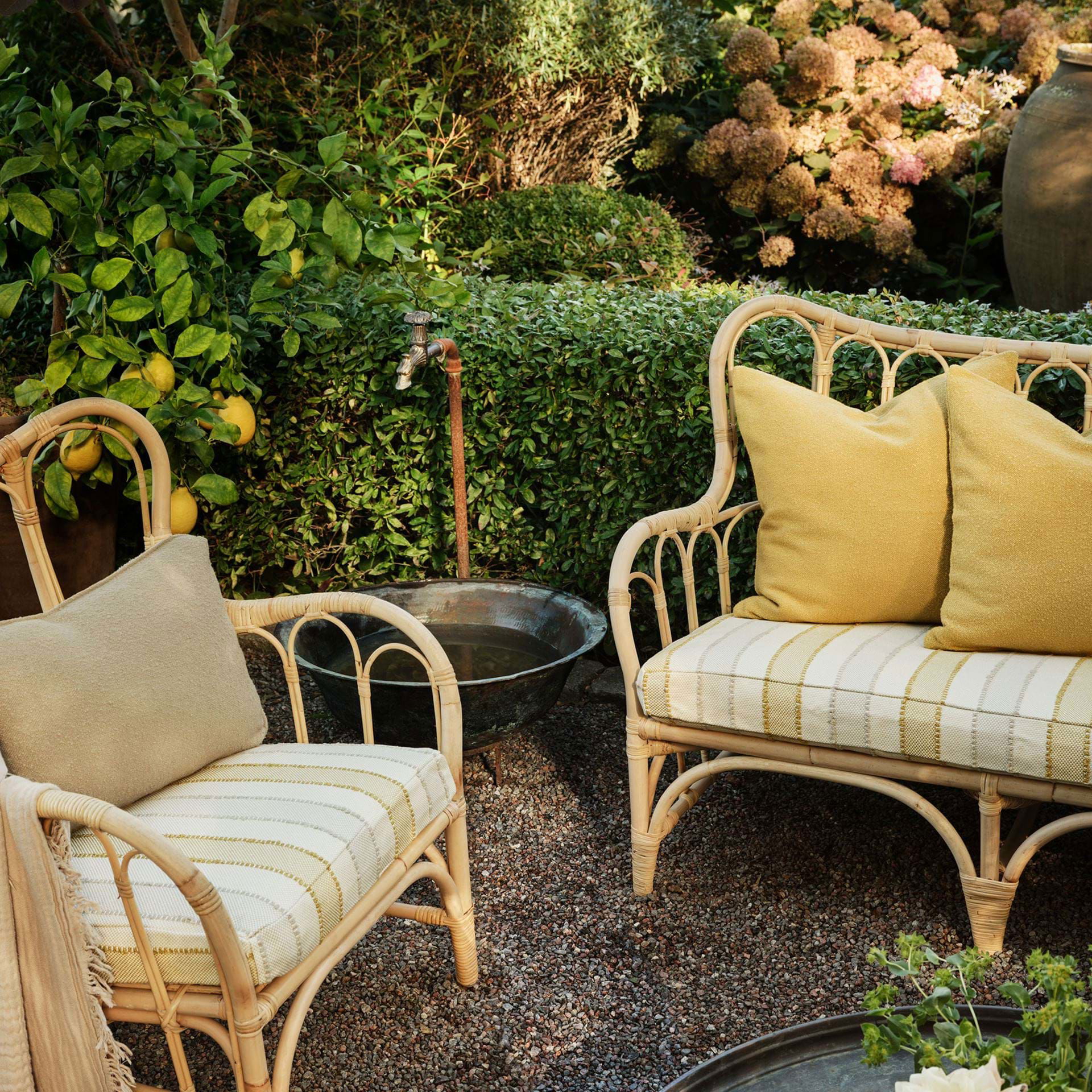 Start with seating
The focal point of any living space, inside or out, is the seating space, so make sure that seating is at the centre of your outdoor room. Depending on the size and type of room you're creating, choose sofas, armchairs, dining chairs, seat cushions and poufs that fill out the space and look inviting. Make sure there is enough seating to comfortably fit friends and family if you plan to entertain in your space.
For maximum comfort, go all out on cushions and other textile elements to soften your space and create a plush indoor feeling outside. Make sure there are lots of pillows to lean back on. Extra seat cushions are a great way to provide extra seating. And blankets are good to have on hand for chilly evenings.
A great way to create the space you are dreaming of is to explore covers for sofas and cushions that allow you to turn standard outdoor furniture from IKEA and others, into premium-feeling pieces that lift your entire space. This is where you can really make your personal taste and design aesthetic shine through in your outdoor room.
Go for durable, high quality fabrics that are made for outdoor use, so you don't have to worry about every little drizzle of rain, and can relax about little spills.
Frame the room with lighting.
An easy way to create ambience in an outdoor space is to use a few different sources of light. String lights are a great way to frame an outdoor space and create a welcoming feel. Small outdoor lamps on dinner tables or side tables really bring a comfortable indoor feeling out into your open air space. And a few lit candles (real or battery-run) create a twinkly, magical feel. Don't forget heating lamps so you get maximum use for your new open air space. Heat lamps are a great way to bring warmth and coziness to your space, and there are lots of options available that look like floor lamps or can be hung over the dining table.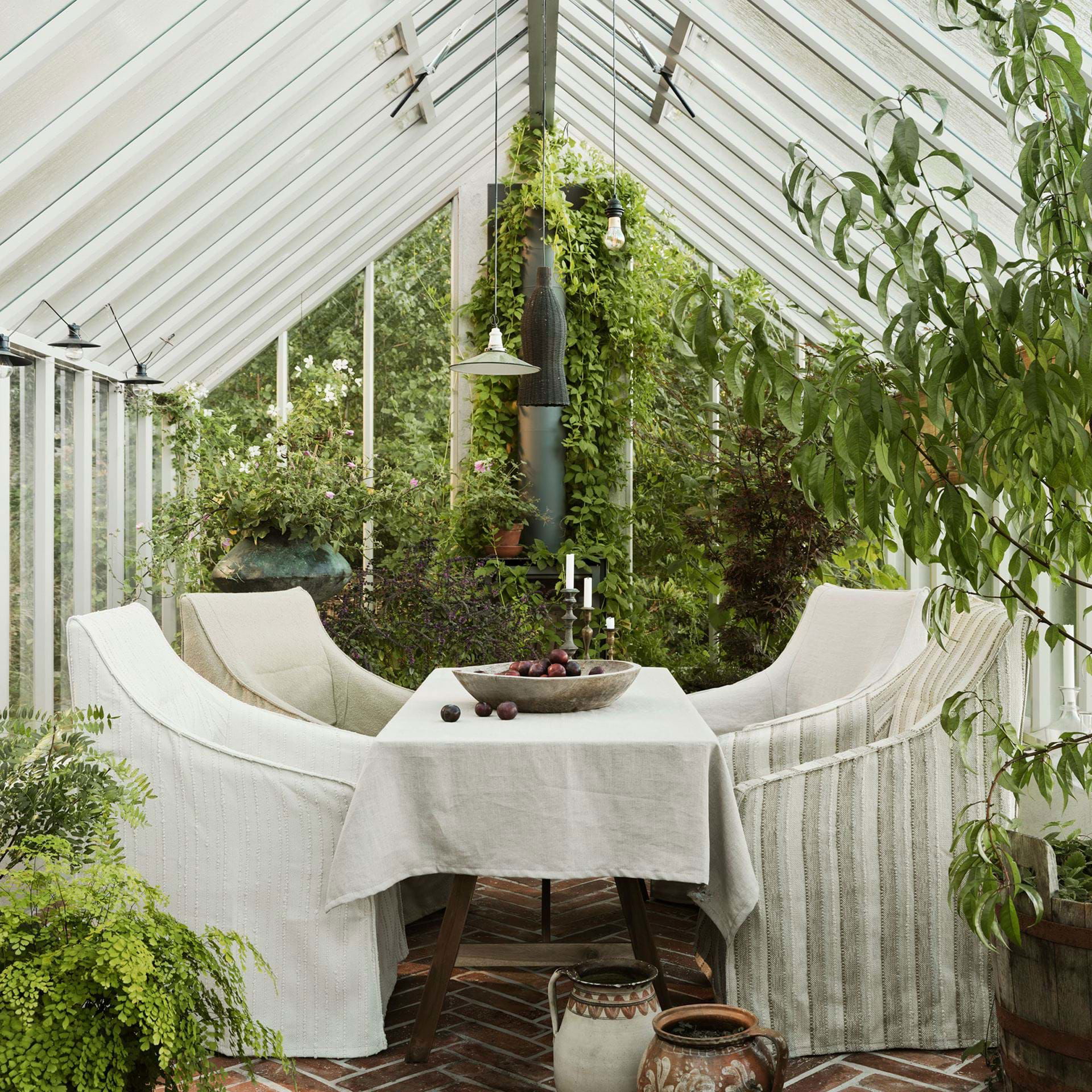 Add the final details to complete your space.
With most of your outdoor room in place, it's the final details that make it all come together. One last cushion or throw blanket is never a bad idea. And extra candles in glass jars or vases add ambience and warmth. A tray to place on uneven or soft surfaces for glasses and snacks is a practical addition. And in some spaces, a serving cart can be a great feature. It's great for serving drinks and food, and also provides a space to display decorative details, like a vase of fresh flowers. Finally, consider a small speaker connected to your favourite playlist.