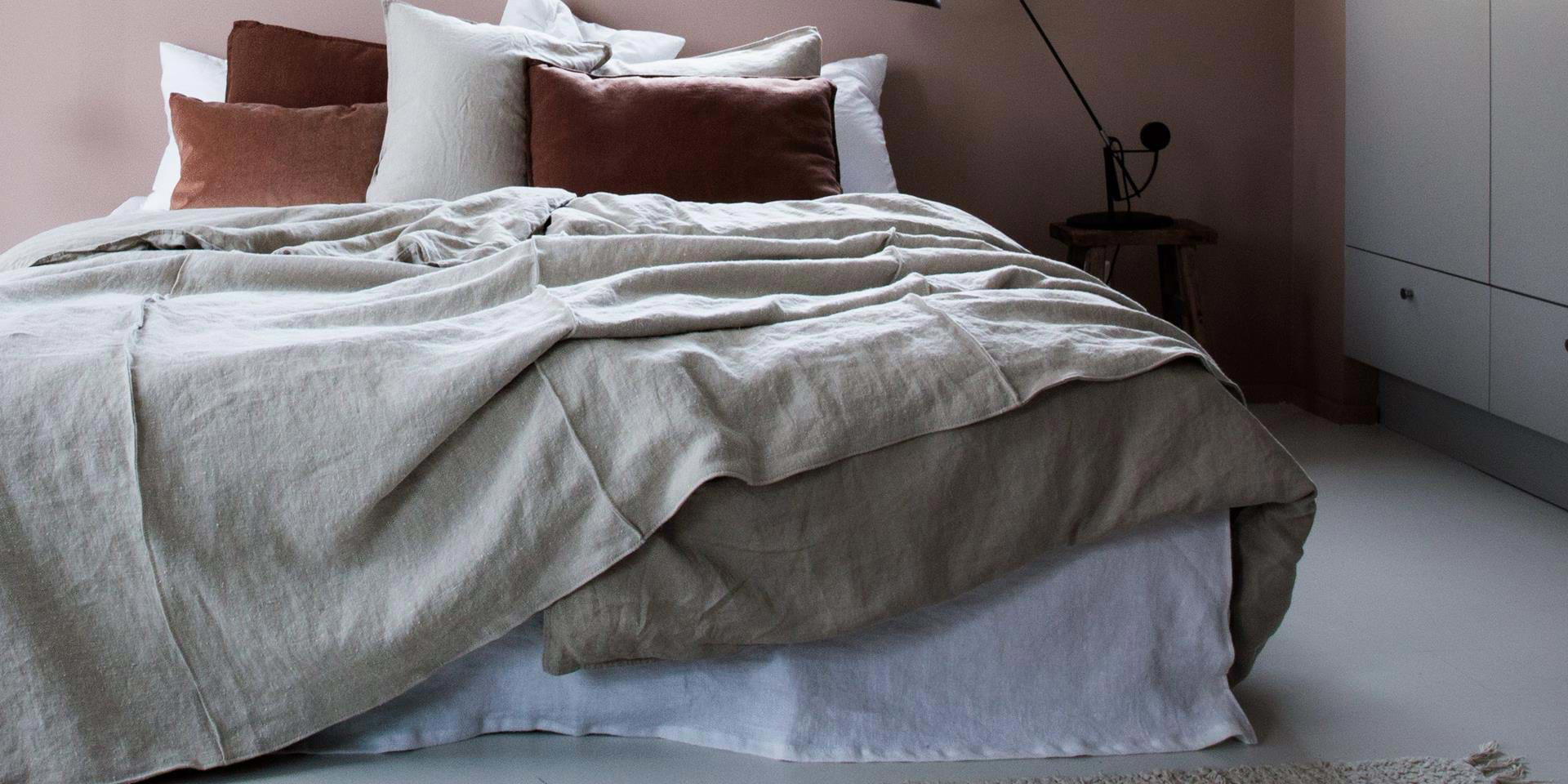 How to's
Bed Skirt Guide
Your bed's bare legs are longing to be dressed in a lovely skirt. We offer two different styles of bed skirt/valance, designed to fit most standard size beds (not just IKEA models). Here's a guide to help you measure properly and choose the right one.
What's a bed skirt?
Practical storage solution and beautiful decor detail in one, our machine washable bed skirts for single/twin, King, Queen or double/full size beds come in 30 cm, 40cm, 50cm and 60 cm heights and are available in hundreds of colours. They're designed to work on beds with 4 legs (not just IKEA models) but not on beds that have foot boards or any kind of protruding exterior frame (like IKEA's Malm bed for instance). Beds are made and configured differently in different countries - the key thing to remember is that bed skirts are made to fit underneath your mattress.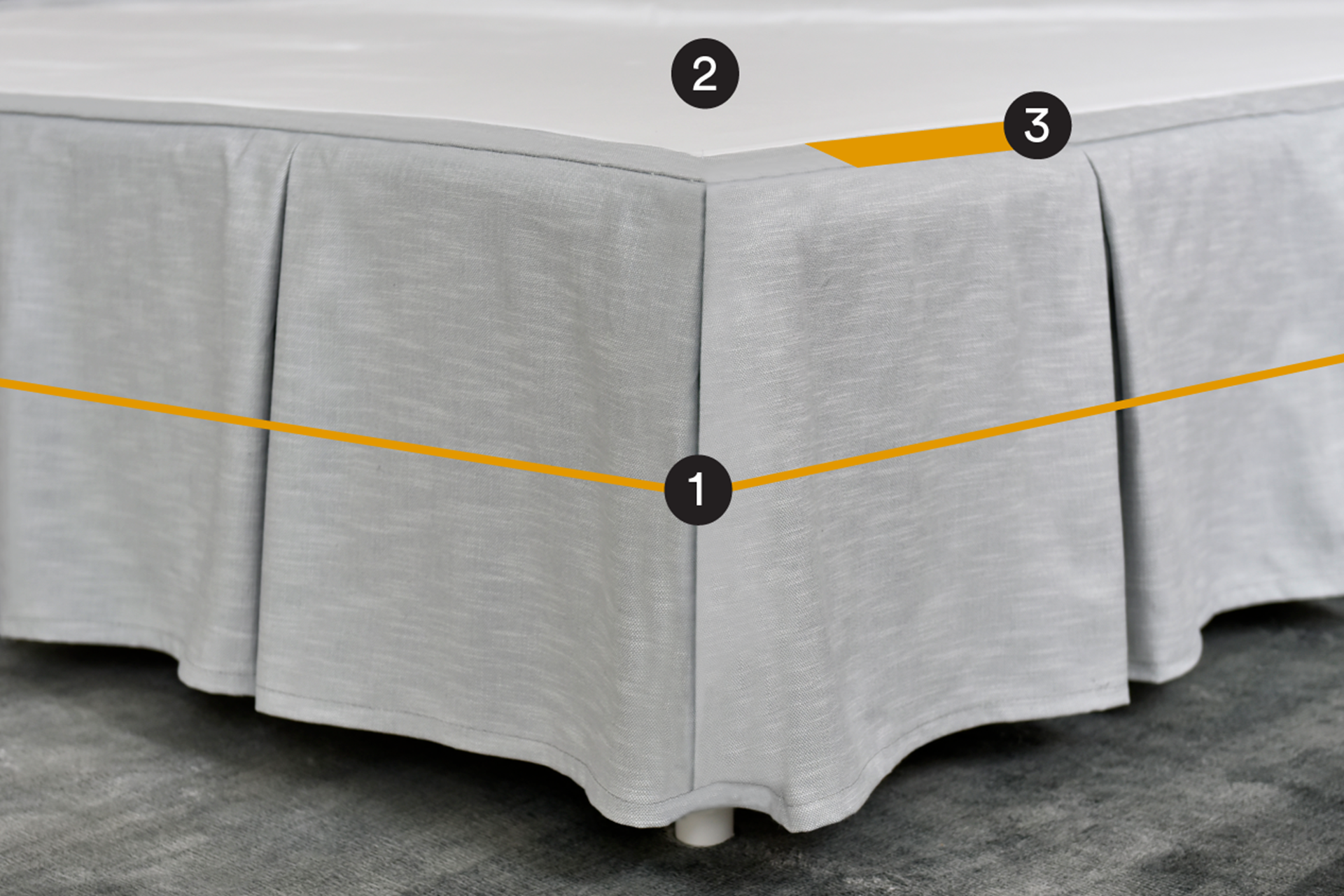 1) The skirt fabric surrounds the bed's base on three sides (it's not meant to appear at the head of your bed since many beds are pushed up against a wall and/or have fastened headboards).
(2) Bemz bed skirts are made with a piece of white lining fabric that acts as a platform and sits flat on top of your box spring/divan base/bed base/bed frame.
(3) This white lining is framed by a border of the same fabric you choose for the bed skirt - a quality detail that keeps the white liner from poking out.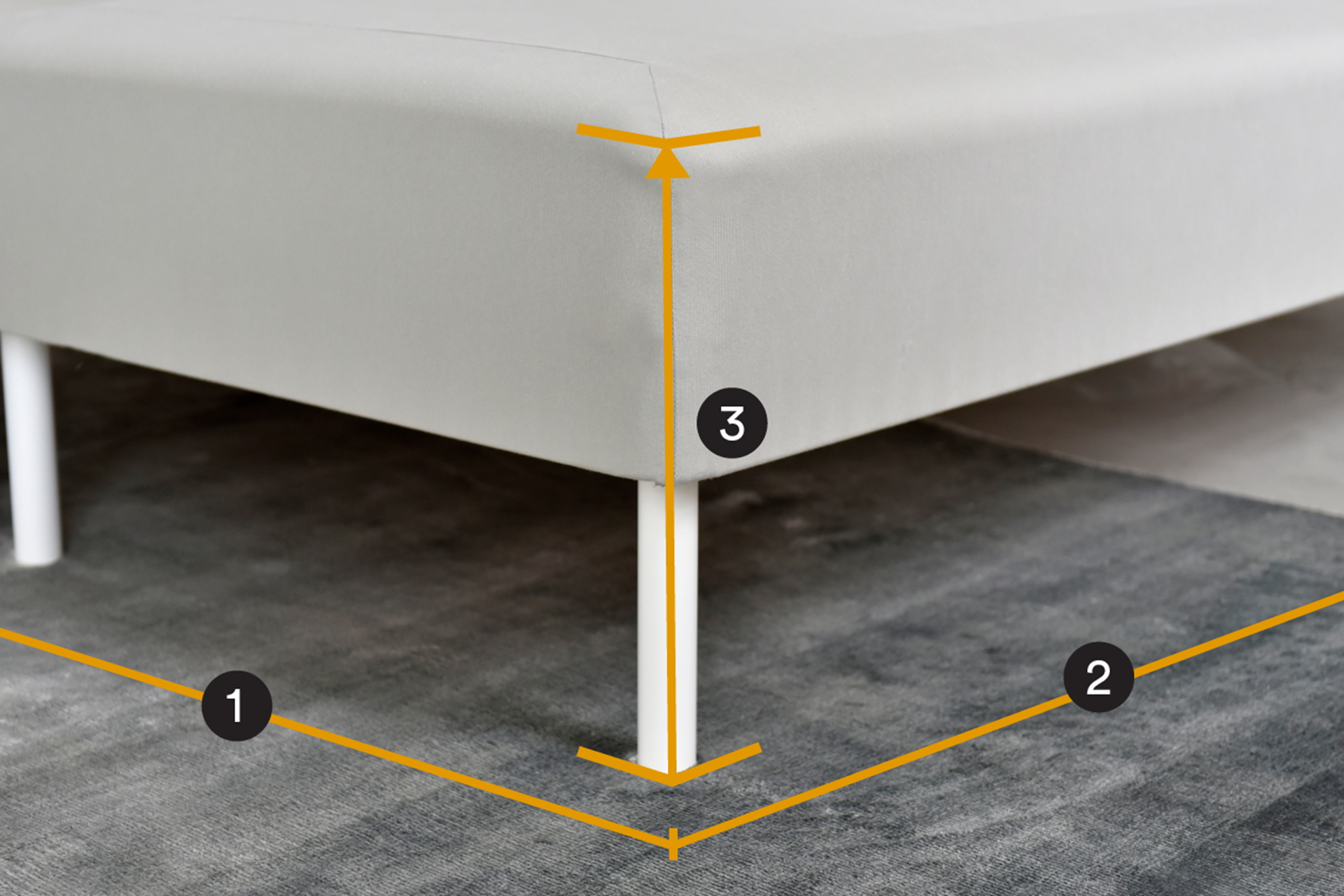 How to measure your bed for a bed skirt
Start by measuring the width (1) and length (2) of your bed. Next measure the height (3) starting from where you want the hem to fall (it's kind of like choosing jeans - do you prefer capris or bell bottoms?).
Stop measuring precisely at the top of the bed rail (a hard structure normally made of metal or wood), which is usually visible (even if it's covered with fabric, as in our photo). Push down on the top of your bed frame until you can feel the bed rail to exclude any bed springs/padding built into your bed frame when measuring. Then you can choose from one of our corresponding bed skirt heights in 30 cm, 40 cm, 50cm or 60 cm.
Beds are made and configured differently in different countries - even if bought at IKEA. Be sure to exclude any kind of mattress in your measurement. The bedskirt is designed to fit underneath the mattress (including box springs/divan beds with thick mattresses).
Bemz bed skirt styles
A bed skirt can anchor and set the tone of your bedroom. The colour, pattern and fabric quality will largely determine the room's look. Ditto the bed skirt's style. Here are the 5 different bed skirt styles we offer and a guide to help you choose to the right one.
Straight
A fitted, streamlined look that works well in minimalist, urban style rooms. Perfect for those who want a chic, simple and discreet solution for hiding their bed legs. Since this is a tailored fit, if you have items stored under your bed that require frequent access, Pleated or Loose Fit Country might suit you better. Due to the clean lines of its perfectly flat panels, this bed skirt style makes any pattern stand out.
Box Pleat
Always a popular choice due to its versatility. The Box Pleat style works equally well in both minimal or classic bedrooms. Similar to our Straight style above with the addition of a decorative corner pleat detail that adds a touch of chic formality. This is also a slim fit, but easier to access stored items under the bed.
The best way to help you make a choice is to order free fabric samples to try out at home.
If you were looking for something to cover your bed on all four sides plus the top of the bed frame, then take a look at our daybed covers.