Must-know product information:
Take a step towards bold accent details with our Grande furniture leg. Its simple sculptural sphere shape comes in an oversized execution presenting a refined yet daring expression. The sleek silhouette masters modernity through geometrical design and provide stability to any piece of furniture.
Product characteristics
• Solid Scandinavian birch wood
• Protective, easy-clean coating
• Felt floor protectors included
• Standard M8 screw included
• Sold individually
• 3 year guarantee
What furniture do Bemz legs fit?
As long as the furniture is fitted with an M8 screw, our replacement legs fit most IKEA models and other brands of sofa, armchair and soft furnishing. We recommend these IKEA models:

Sofas: Dagarn, Ekenäs, Härnösand, Karlsfors, Karlstad, Klippan, Klobo, Landskrona, Ljungvik, Mysinge, Norsborg, Oleby, Sandby, Säter, Skogaby, Söderhamn, Solsta, Stockholm, Tidafors, Tomelilla, Waxholm, Ystad.

Armchairs: Dagarn, Ekenäs, Karlsfors, Karlstad, Jennylund, Landskrona, Mellby, Solsta-Olarp, Söderhamn, Strandmon, Skogaby, Tullsta.

Footstools: Dagarn, Karlstad, Klippan, Landskrona, Söderhamn, Skee, Stocksund, Strandmon, Ystad.

Beds: any bed fitted with an M8 screw.

Fitting your new furniture legs
It's easy to replace your IKEA furniture legs. Simply unscrew the old ones, then screw on the new. Check out our 2-step guide: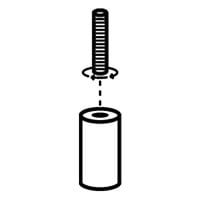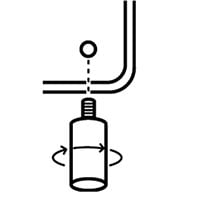 Need a mounting plate?
Probably not. For most IKEA sofas and armchairs, you simply have to swap the old legs for the new ones. But, for the perfect fit, some models need a universal mounting plate. Don't worry though, because that's easy to apply too. Take a look at our 2-step guide: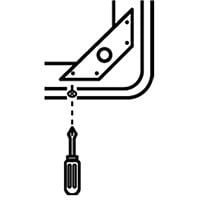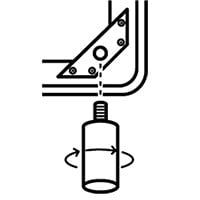 A few IKEA furniture models which require a universal mounting plate include: any bed (fitted with an M8 screw) and the Tomelilla sofa. Add a mounting plate to your order.
Care instructions
Keep your new furniture feet looking sleek by wiping with a damp cloth every once in a while.
Grande wooden furniture leg 15cm/5,9"
£49