Get the look
Low key living room ideas
Calming interior design ideas for the busiest room in the house.
Scandinavian living
Scandinavian living room design is all about simplicity. Taking the chaos of everyday life, and stripping it back to create a space that's contemporary, calm, and most importantly, comfortable. Our low key living room decor ideas are inspired by our favourite interior design gurus, the latest global trends, as well as our signature Swedish aesthetic.
Love the look? Go get it.
Mellow monochrome
For a relaxing, thoughtful vibe, we love this minimalist living room idea. It uses a reserved monochrome palette to create a contemporary, slow-tempo atmosphere, while the natural textured fabrics add a layer of warmth and intimacy. The sofa is fitted with a Loose Fit cover, hiding the legs to create a simplified silhouette without distraction.



Trending: 1970s
An oh-so-chic ode to the most sensory decade. This classic living room idea has a retro 70s twist. Combining rich, acorn velvet with turned wooden legs to create a feature sofa full of texture. The cushion covers contribute beautifully to the retro-chic aesthetic, in which all shades of auburn are not only welcome, but essential. Refined yet inviting, we think this modern living room idea is the perfect homage to this season's hottest trend.
One colour living room idea
This natural stone-grey living room idea is a mix of silver, graphite and blue-grey tones, with a delicate floral flourish. Styled by our favourite Swedish Design-guru, Danielle Witte, it gives off all the warmth you need for a cosy night in, but with a subtle Scandi influence. Accented with all-natural accessories, including rustic wood and ceramics, this warming one colour living room idea works all year round.
Shop the look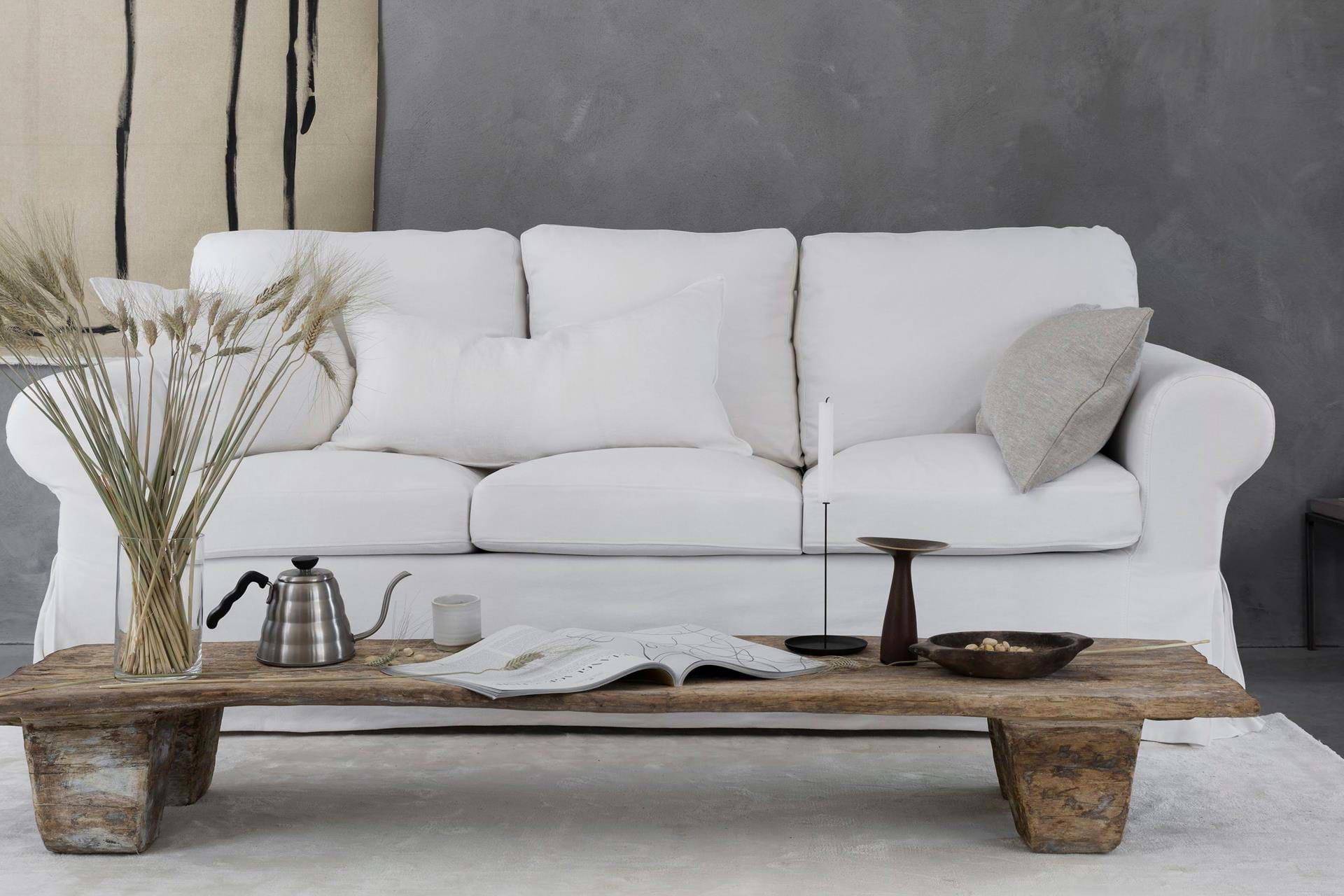 Living room ideas on a budget
This simplistic Japanese aesthetic is all about holding on to the natural warmth in your everyday items. No fancy flourishes necessary. It's the Wabi Sabi trend, and it's all about celebrating the beauty in nature – the transient, the imperfect. How this translates to your living space? Say hello to relaxed, earthy colours, warped woods, frayed edges and textured, well-worn carpets. Natural embellishments like hay and dried twigs are also a key feature for this simple, frill-free style. For living room ideas on a budget, our Simply Linen fabric is the perfect complement – 100% natural, and peach-soft to touch.
Shop Simply Linen
Small space living
Perfect for a small studio apartment or shared living space, the classic reading corner never goes out of style. And it's constantly being reimagined. That's why we love this modern living room design by Pella Hedeby. Styled in loose fit natural linen, this Söderhamn armchair has a clean, contemporary vibe, ideal for creating a subdued, contemplative atmosphere. The exposed split seams of the unbleached fabric gives it a raw, urban appeal – complemented beautifully by a natural wood stool and neutral white embellishments.