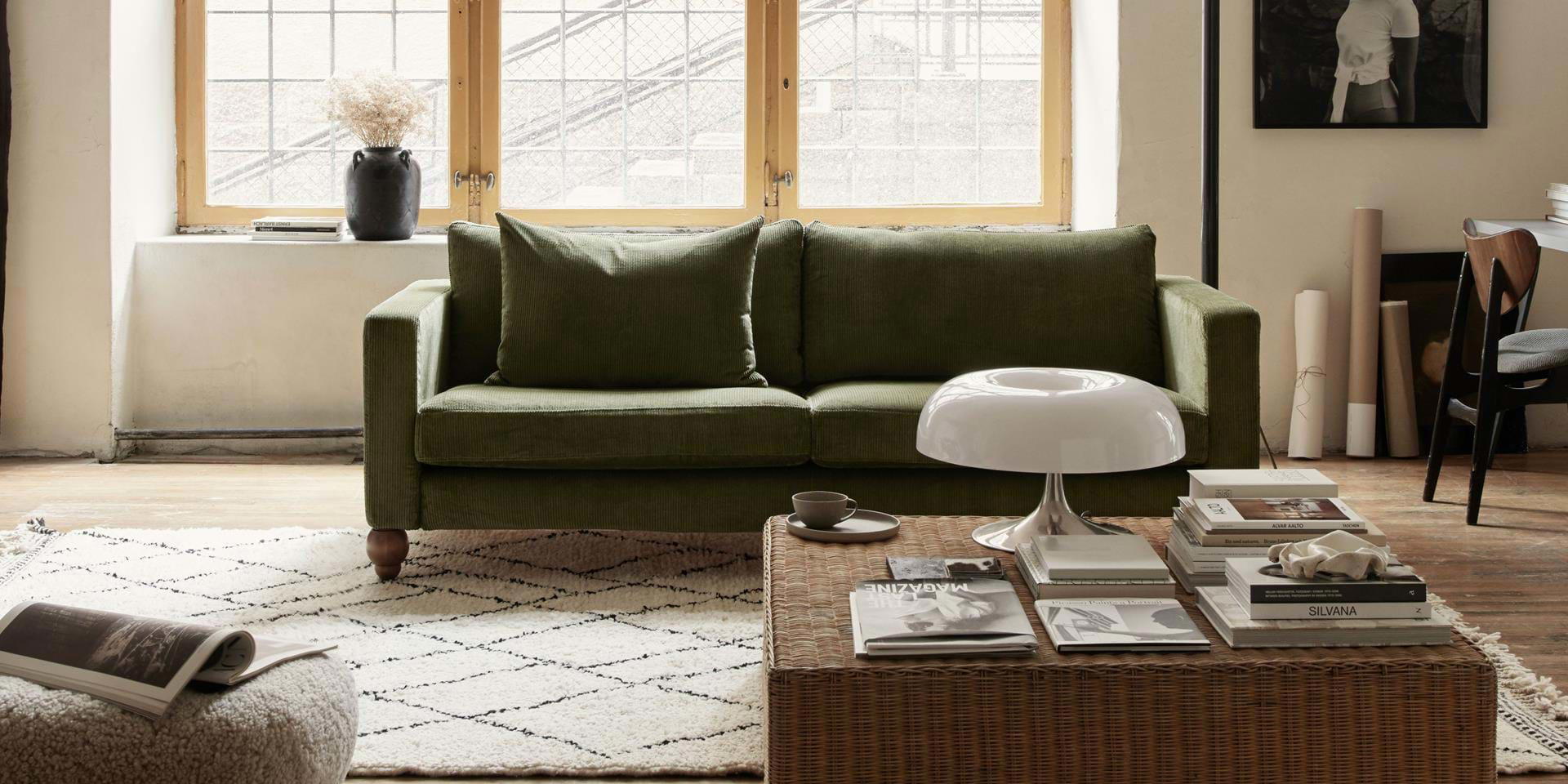 Designers
Apartment Therapy and Bemz launch an exclusive corduroy fabric collection for IKEA furniture.
Introducing Maxwell Ryan / Apartment Therapy for Bemz - you can now dress your IKEA sofa in fashion's favourite fabric crush: corduroy. The New York-based media giant and Swedish interiors brand, offering made-to-order covers for IKEA furniture, have joined forces to create an exclusive collection of six cotton corduroy fabrics. The curated palette ranges from timely to timeless with bold, exaggerated wales, and is now available for purchase at bemz.com.
Stockholm | October 29, 2020
The Maxwell Ryan / Apartment Therapy for Bemz corduroy collection offers a modern reworking on quintessential cord. Drawing inspiration from heritage upholstery and the fashion industry, the collection features three classic and three trend fabrics to appeal to a wide audience. The forever favourites include: Peacoat, Moss Green and Apartment Therapy's signature Brick Red. The contemporary hues include an elegant take on '70s cord Wild Deer, along with fashion-forward Seagrass and Blush options.
This is Bemz and Apartment Therapy's second design collaboration, having previously collaborated on a line of replacement furniture legs. The new collection is designed to complement this range, enabling customers to mix and match contrasting shapes, forms and textures to update their IKEA furniture in a stylish way.
Working with Bemz over the past two years, I've been dying to introduce a rich, cozy fabric line to complement the Maxwell furniture leg collection. I wanted to pull from the fashion world with rich, bright colors, and from the upholstery world with soft, warm fabrics that would invite you to lay down and take a nap on your sofa. It plays with big, chunky corduroy ribbing in six new colors. This is a fabric collection that you'll want to touch and put your cheek up against. It's a collection that will turn your living room into the retreat you've always wanted.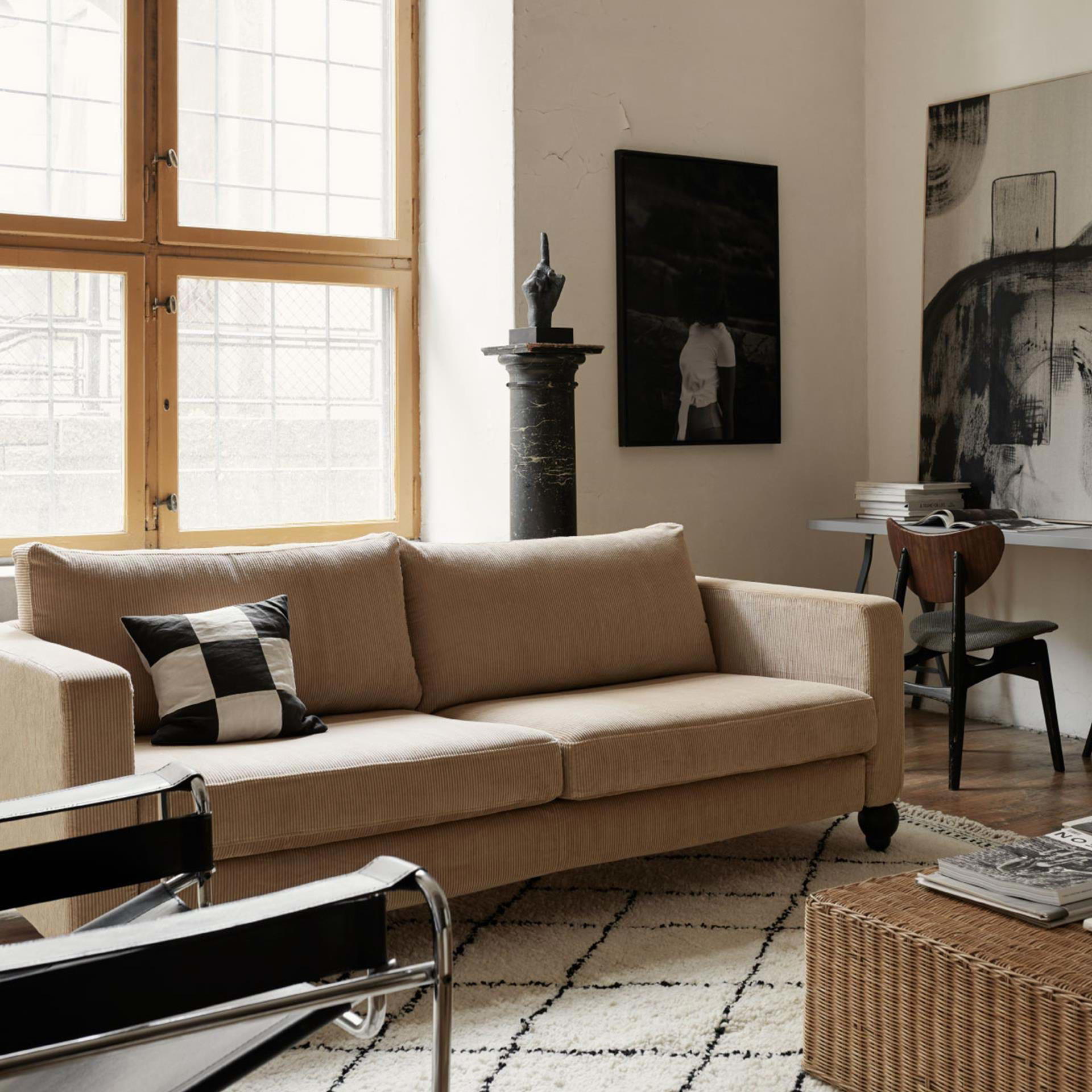 Apartment Therapy has established itself as a leading source of design inspiration and advice for real people and real homes, reaching an engaged audience of over 28 million. Apartment Therapy's mission is to guide people in all they need to create a home that's happy, healthy and uniquely theirs. This is a mission that Bemz wholeheartedly embraces, by offering design-driven, conscious options to transform and prolong the life of IKEA furniture.
We're delighted to introduce a completely new fabric category to our wide assortment. The collection has a luxe, cosmopolitan spirit that feels both contemporary and classic. When paired with the sculptural elements of the furniture legs, the opportunities for transforming your IKEA furniture are endless.
The Maxwell Ryan / Apartment Therapy by Bemz Corduroy collection will be available exclusively at Bemz.com on October 28.
Sofa cover prices from: $229. The Maxwell Ryan / Apartment Therapy by Bemz collection is available in the following colourways: Blush, Brick Red, Peacoat, Seagrass, and Winter Moss across Bemz entire range of covers for IKEA furniture.
About Bemz
Bemz is a design company with a global e-commerce specialising in custom covers and furniture legs for IKEA furniture. With an emphasis on design, thoughtful details and conscious consumption, Bemz mission is to transform IKEA furniture in a personalised way. Bemz products are made to order in Europe and are crafted from a consciously curated selection of fabrics. With Bemz' range of furniture accessories, customers are able to completely change the look of their IKEA sofa, armchair and more.
Media Contact
About Apartment Therapy
Apartment Therapy is the leading independent home site, designed to inspire anyone to live a more beautiful and happy life at home. Launched in 2001 by interior designer Maxwell Ryan (nicknamed "The Apartment Therapist") as a weekly newsletter for clients, Apartment Therapy officially became a media company in 2004 and grew to become a top source for design inspiration, real-life solutions and an inside look at how people live at home. Apartment Therapy's content currently spans across house tours, home projects, organizing & cleaning, real estate, wellness and home buying. The company also hosts Bazaar, a peer-to-peer furniture and decor marketplace. Apartment Therapy is a Webby-award winning brand that lives across multiple platforms, attracting a monthly global audience of 28M.